Kirishitan Bunko Library
Kirishitan Bunko Library was founded by the late Fr. Johannes Laures SJ, on Feb. 5 (the feast day of the twenty-six martyrs of Nagasaki), 1939 with a mission to advance the study of the history of Kirishitan (early Japanese Christians) and the study of cultural exchanges between Japan and Europe.

The collection of Kirishitan Bunko includes more than 15,600 books in various languages. As a leading research library and archive specialized in Kirishitan studies, the Bunko collects primary and secondary sources while promoting interdisciplinary researches about the subject.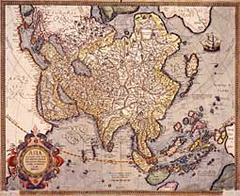 Map of Asia from the late sixteenth century
Kirishitan Bunko sponsors and organizes the Association for the Study of Kirishitan Culture and offers annual lecture series on the first Sunday of December every year. This lecture series is open to the public.

Also, through a grant from the Japan Society for the Promotion of Science, Kirishitan Bunko has been constructing a database and the digital library ("virtual library") of its rare book collection.
>> Laures Kirishitan Bunko Database
Kirishitan Bunko's rare book collection includes:

– missionary publications from the 16th century to the present, manuscripts, maps, and artifacts related to early modern history and cultural exchange, linguistics, Kirishitan art and literature, as well as the Japanese anti-Christian literature published during the period of persecution.
– the entire series of "Fr. Petitjean's Press" published during the restoration of the Catholic Church in Japan (1865-1880).
– Chinese Catholic publications from the late Ming-early Qing period.

Prior application is necessary to view books in the rare book collection.
Examples of Recent Publications of Kirishitan Bunko
Kirishitan Kenkyu series
Bulletin of the Association for the Study of Kirishitan Culture (issued twice a year)
Reprint of Manuale ad Sacramenta Ecclesiae Ministranda (Nagasaki, 1605; reprint, Yusho-do Shoten, 2006)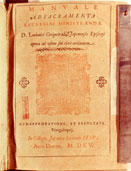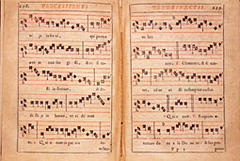 Services and Open Hours
Kirishitan Bunko is open to Sophia University faculty members and students, as well as to the members of the Association for the Study of Kirishitan Culture. Other visitors are requested to submit an introduction letter from an academic institution.

Opening Hours: 9:30-4:30 pm (closed 11:30-12:30), Monday – Friday
Closed on: Saturdays, Sundays, Japanese National Holidays, summer break, Sophia Festival, Feast day of St. Francis Xavier, winter break

To learn the application procedure to request books in the rare book collection (including the facsimile collection of ARSI Jap-Sin series) and for other inquiries, please send an email to: kirishit@sophia.ac.jp

Address: Sophia Univerisity Yotsuya campus library, 8F
Tel: +81-(0)3-3238-3538
Inquiries about the
contents of this page
Department Name

Center for Research Promotion and Support
連絡先

03-3238-3173
Contact

Bldg.13, 4F