The University is a comprehensive institution with nine faculties and ten graduate schools on a single campus. In April 2005 we created the Sophia Research Organization (SRO) to promote interdisciplinary and organizational research activities, which fully represents the character of the campus. At the same time, our Center for Research Promotion & Support began comprehensive operations. This center is responsible for general research activity support, including strengthening three-way collaboration between industry, the government, and academia. (The Center was formally called the Research Support Center.)
In 2005, we established the Intellectual Property Rights Committee to ensure smooth industry-government-academia collaborations and examine the inventions and intellectual property rights of the University. We also added an intellectual property rights specialist to our staff as an adviser to promote appropriate protection and utilization of these rights, as well as a coordinator for liaison with industry, the government and academia. In 2012, we published a Research Outcome Report to introduce the results of our latest research. In 2015, we switched the format of the brochure to a WEB edition in order to provide people with more comprehensive information in a far more prompt and effective manner. Also, the Sophia Science & Technology Liaison Office (SLO) was established within an external support organization, the Sophia Science and Technology Promotion Council (Sophia Sci-Tech), to match up industry and government organizations with Sophia University researchers in the Science and Technology departments.
The University is considering further development of its research support system, including establishment of an"incubator"for support of technology transfers, licensing, etc., and to promote commercialization and startups from the University's research outcomes. We are actively promoting development through the industry-government-academia collaboration system, and are striving to provide superior education for the next generation of researchers.


Research Support Organization chart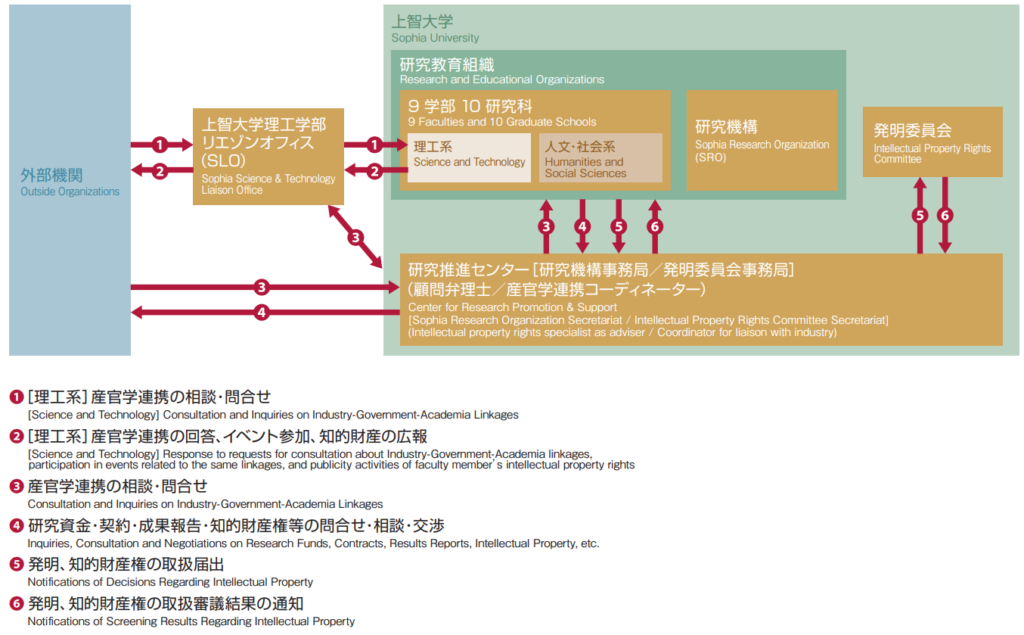 <Contact Information>
Center for Research Promotion & Support
TEL:03-3238-3173 / FAX:03-3238-4116
E-MAIL: sunivrsc@sophia.ac.jp


TEL:03-3238-3300 / FAX:03-3238-3500
E-MAIL: deangdst@sophia.ac.jp

Inquiries about the
contents of this page
Department Name

Center for Research Promotion and Support
連絡先

03-3238-3173
Contact

Bldg.13, 4F