Sophia University Visual Identity
In 2013, marking the 100th anniversary of Sophia University, we devised standards for school color, school insignia, logos, and other aspects of our visual identity (VI), and drew up the Sophia School Corporation Visual Identity Guidelines (Sophia University VI Guidelines).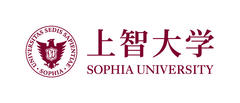 The insignia and school color symbolize the aspirations of the University ever since our founding. To continue conveying these aspirations consistently into the next 100 years, the University intends to make active use of VI from now on, visually communicating the true identity of the University in our education and research activities as well as in extracurricular activities.

These Guidelines are in effect as of October 1, 2013. An overview of the Guidelines is given here .(456.39 KB)

For more detailed information about the design elements, or for VI management including the procedures for their actual use, please contact us as follows.
For further information
Office of Public Relations, Bureau of General Affairs
Sophia School Corporation
Phone: 03-3238-3179
sophiapr-co@sophia.ac.jp
Inquiries about the
contents of this page
Department Name

Office of Public Relations
連絡先

03-3238-3179